Armi da Pyongyang.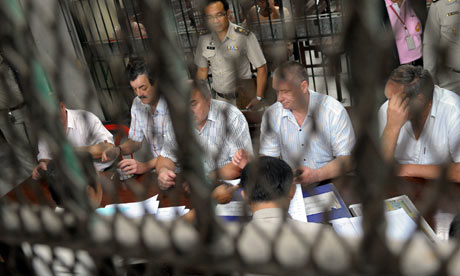 Bangkok court extends detention of five-man crew over Ilyushin-76 airliner, with speculation of illegal shipment to Iran
The intended destination of a plane carrying 35 tonnes of arms from North Korea and impounded in Thailand was tonightstill unclear, with none of the governments apparently linked to the seized flight admitting any responsibility for its cargo. Ukraine today said it had launched an investigation into the Ilyushin-76 aircraft, amid speculation it may have been transporting arms to Iran as part of an illegal North Korean smuggling network used to fund North Korea's banned nuclear weapons programme.
Ukrainian sources indicated the plane had originally set off from Belarus. Belarus's foreign ministry denied the report but confirmed that one of its citizens – Mikhail Petukov – had been on board, working as a flight engineer. According to Ukrainian officials, the plane travelled via Ukrainian airspace and refuelled at an airport near Kiev. It set off again on 8 December without a cargo to North Korea. The plane picked up a shipment of portable grenade launchers, an anti-aircraft missile system and other weapons from Pyongyang, North Korea's capital.

Today Bangkok's criminal court extended the detention of the plane's five-man crew, four of whom come from Kazakhstan. Kazakhstan tonight denied any knowledge of the illegal arms shipment. It said the plane was registered in Georgia on 7 October and had been leased to a New Zealand company.

Today, government spokesman Panitan Wattanayagorn said the aircraft was supposed to be flying to the Sri Lankan capital, Colombo. But he said the authorities were investigating whether the flight plan was misleading, and the final destination was in the Middle East, noting the aircraft had recently stopped in the United Arab Emirates.
(Ukraine, Belarus and Kazakhstan disavow arms flight from North Korea)